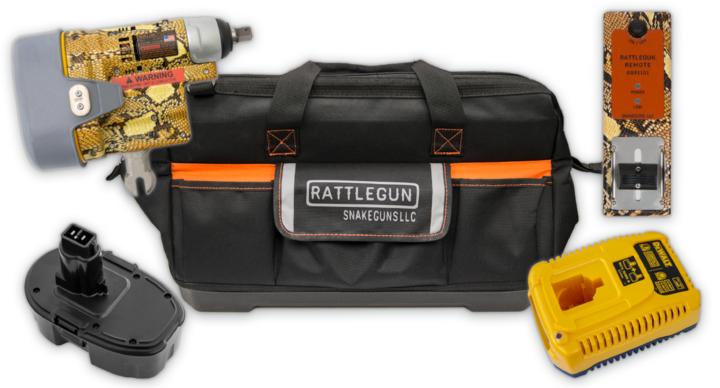 You're caught between a rock and a hard place – or a pole and a bolt just a few feet too distant to get to safely. Solution? The RattleGun. An impact wrench usable in an energized situation to loosen or tighten bolts at a distance.
Our goal is to prevent lineman accidents and deaths. That's
what founded us,
and that's what gets us going each and every day. Each new tool we create off
with the latest technology and the toughest tools and testers on the market today.
The Rattlegun impact wrench allows a lineman to safely install and remove energized bolted connections using a hot stick on a variety of transmission, distribution and substation connectors up to 500kV.
Using battery operation, the Rattlegun works through wireless telemetry via remote control, so the operator can safely control speed and rotation direction from a distance.
The remote control puts distance between you and the energized lines. Access, tighten, and loosen nuts and bolts remotely, using a hot stick. It even provides additional safety for enclosures, manholes, and vaults.
Plus, the Rattlegun reduces the risk of repetitive motion injuries. Since the Rattlegun handles all the motion, you don't have to ratchet the stick back and forth to tighten or loosen the nuts. You can use it with any insulated hot stick with a universal head.
Check out the Rattlegun here >> https://snakeguns.com/