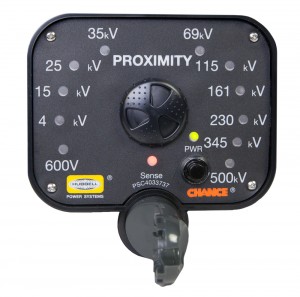 The CHANCE® Proximity Voltage Indicator (Model# PSC403737) is a portable tool used as a secondary means to confirm the condition of an A.C. (Alternating Current) high-voltage circuit after principal work procedures such as visible open gaps, dispatcher hold orders, and apparatus tag-outs have rendered the circuit de-energized.
It presents field practicality over a voltmeter and obvious advantages over traditional methods without a meter.
The PSC403737 is designed to determine approximate phase-to-phase voltage classes up to 500kVAC depending upon distance away from energized conductors.
This unit is a non-contact (proximity) electric field intensity meter for Voltages above 480 volts and a near-field sensing device for voltages below 480 volts.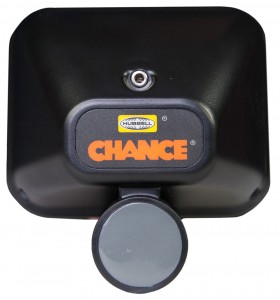 The Proximity tester responds to the magnitude of an alternating current field gradient between its sensing element (located at the opposite end of the round Universal Coupling holder) and a counterpoise within the meter.
In normal operation, the Proximity Voltage Indicator is calibrated to respond to a sensed field in three ways. First, the "Sense" LED (located left of the Power / PWR button) will go from blinking to solid when an electric field is detected. Second, one or more LEDs (Light-Emitting Diodes) will illuminate, representing the class of voltage that is present on the conductor.
Note: when two kV LEDs are illuminated at the same time, this is an indication that the electric field intensity is somewhere between the upper and lower range). The third response is an audible alarm.
ADVANCED FEATURE:
In an advanced mode of operation, the Proximity Voltage Indicator will temporarily disable Range indications and the audible alarm for voltages below a user-selected range.
As a Safety feature, the SENSE LED will continue to function normally in both normal operation and advanced mode operation – (blinking SENSE LED when no electric field is detected and a steady light SENSE LED when an electric field is detected).
! CAUTION
! WARNING
The tool must be used with a universal pole to maintain its calibration. Always use appropriate length stick even if wearing rubber gloves.
Contact with universal ferrule or other part even with rubber gloves will cause erroneous voltage indication. Always use with a universal pole to maintain its calibration.
This device is an A.C. (alternating Current / alternating voltage) only detector; do not use it to detect D.C. (direct Current / non-alternating voltage).
! CAUTION
! WARNING
Videos
Click here to learn more about the Proximity Voltage Indicator!